Highlights - Polynesia and Hawaii
Polynesia and Hawaii in the middle of the Pacific Ocean are like idyllic ends of the earth. People here speak English or French, keep unique cultural traditions alive and live among lagoons and dense forest. From Bora Bora to the Marquesas Islands, the Tuamotus and the Society Islands, here are the islands to visit in the Pacific.
Read more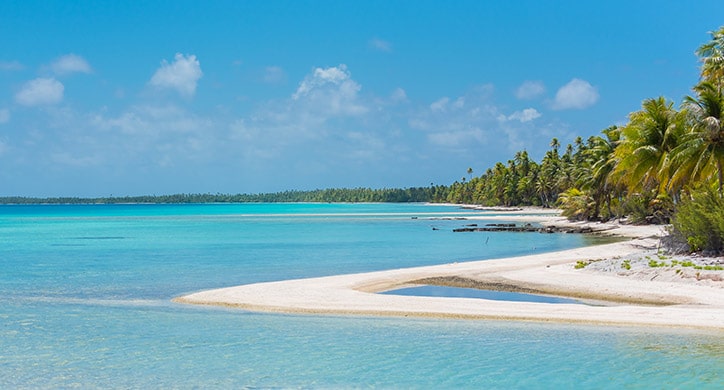 Essential - Polynesia and Hawaii
Although Polynesian landscapes are certainly attractive, the islands' culture is often what incites people to travel. Below is our handy guide to help you become more familiar with French Polynesia.
Read more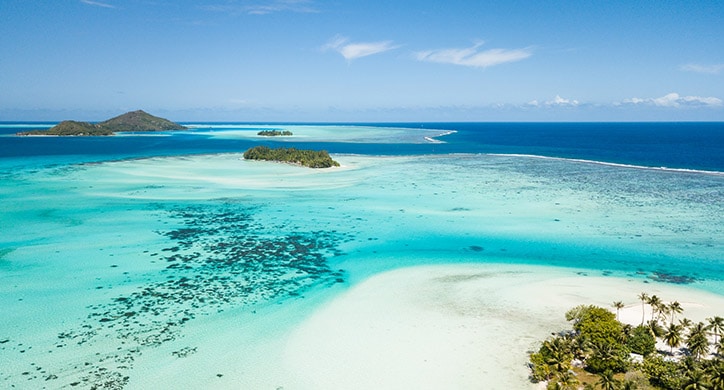 Highlights - Polynesia and Hawaii
Polynesia and Hawaii in the middle of the Pacific Ocean are like idyllic ends of the earth. People here speak English or French, keep unique cultural traditions alive and live among lagoons and dense forest. From Bora Bora to the Marquesas Islands, the Tuamotus and the Society Islands, here are the islands to visit in the Pacific.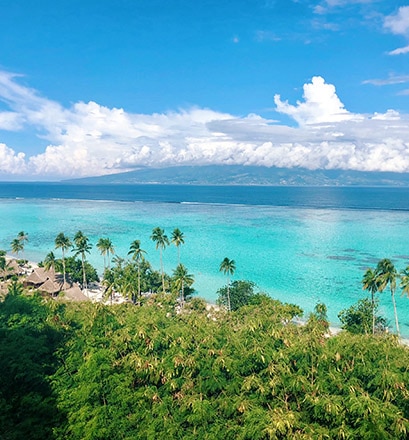 A getaway on land and at sea in Moorea - French Polynesia
A few nautical miles from Tahiti, Moorea is THE Polynesian picture-postcard. The lovely fine-sand beaches and turquoise lagoons offer great swimming and snorkelling. The coastline is also a haven for spinner dolphins, rough-toothed dolphins and pilot whales. You can see them for yourself accompanied by a marine biologist who knows how to approach without disturbing the animals. Moorea is a green island. From the Belvedere Lookout, you can take stock of the abundant natural surroundings right down to the water. Pineapple plantations give way to subtropical forests in a palette of dazzling greens.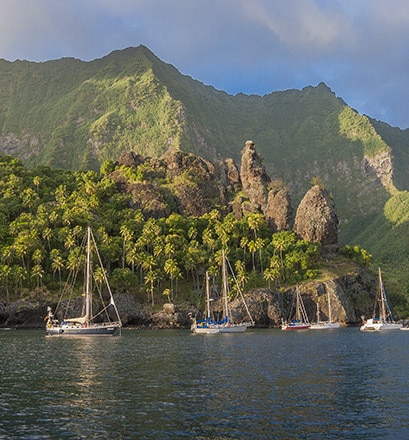 Learn about Marquesas culture - Nuku Hiva island, Marquesas Islands
The Marquesas archipelago in the South Pacific has its own special character. Isolated over 1,500 kilometres from Tahiti, the Marquesans are proud of their culture and their wildly beautiful islands. To learn more, there is nothing better than visiting Koueva (an archaeological site where rituals were held), or Hikokua (a prehistoric site in the middle of a coconut grove). In the north of the island, go on a detour to Hatiheu Bay and Valley, which are easily recognised with their peaks towering over 1,000 metres tall, to enjoy seeing Mother Nature's abundance in the Marquesas Islands.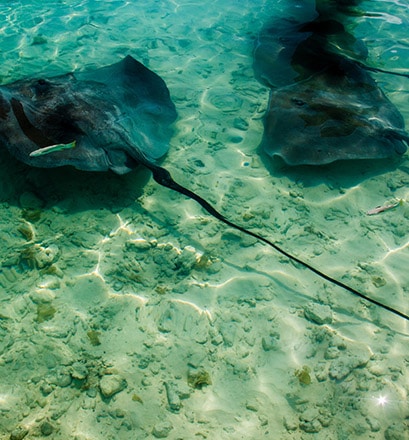 Feel like you're in paradise - Bora Bora, French Polynesia
There's no two ways about it: the images you see of Bora Bora show that this is a rare paradise on earth. From the centre on Pahonu Hill, you can take in the beautiful lagoon and its sparkling blue waters protected by the coral barrier. Flying over the island on a small plane only confirms just how incredible this place is: the elements come together is perfect harmony. Back on the ground, a swim in the crystal-clear waters is a must. And why not also go and meet blacktip reef sharks and rays? One thing's for sure: Bora Bora is certainly exotic!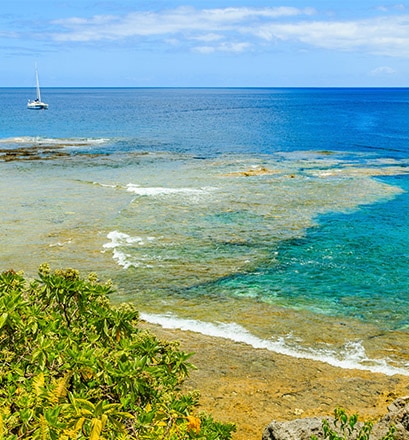 Dive off Alofi Island - Wallis and Futuna
In Wallis and Futuna, you truly feel like you're at the ends of the earth. This French overseas territory is the furthest one from mainland France: 16,000 kilometres lie between them. The sense of the exotic is most noticeable in the south of Futuna on the inhabited island of Alofi. People come here to find a place for themselves off the typical tourist routes. Time stands still in the shade of the palm trees and on deserted beaches. Dives in the turquoise waters offer the opportunity to see a variety of fish, turtles and rays. If you're lucky, you'll even see dolphins... This is as close to true happiness as it gets.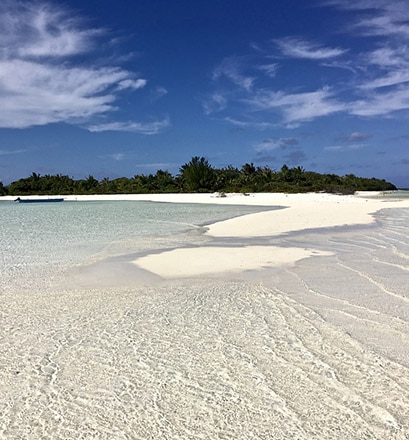 Live peacefully on Raivavae - Austral Islands, French Polynesia
Four villages, 1,000 inhabitants, 740 kilometres from Tahiti. That's the key figures sorted. But Raivavae in the heart of the Austral Islands in French Polynesia can't be summarised in just a few numbers. This volcanic island surrounded by an emerald lagoon is often considered to be one of the most beautiful in the South Pacific. Arriving by sea, you can admire its slender bordered by rich and unspoilt vegetation. Heading deeper inland, you discover a way of life that combines growing taro (a plant with a root like sweet potato), farming and making sewn pirogue canoes using woven coconut fibres. This is unique traditional know-how. Locals mostly travel around on foot or by bike, adding to the calm of the place. Majestic ancient religious and tiki sites remind visitors of Polynesian culture's integration. Hotuata (women's rock) and Ruatara (man's rock) are home to many birds including frigate birds.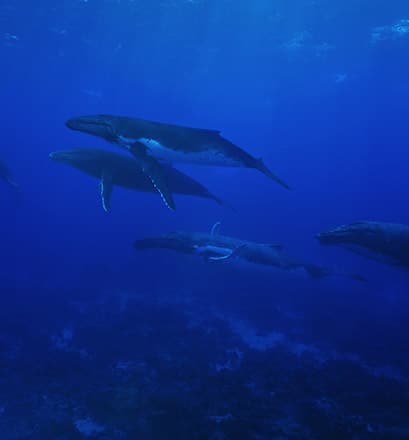 Dive off the Austral Islands - French Polynesia
Raivavae, Tubai, Rurutu, Rimatara… The Austral Islands are among the best dive spots in French Polynesia. Go underwater to enjoy a real show. The coral reefs are some of the most unspoilt on the planet. Sea anemones live together in symbiosis with parrot fish, groupers, flying fish, moral eels, sea turtles and rays. Lucky divers can even see humpback whales in the right season.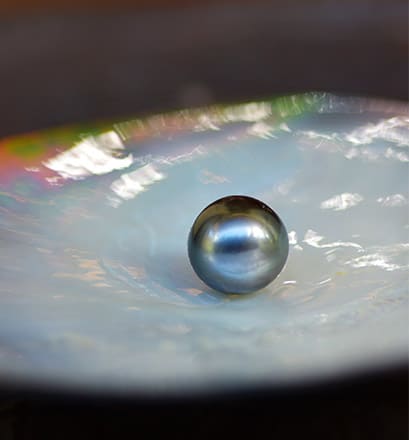 Visiter une ferme perlière à Rangiroa – Tuamotu, Polynésie française
The Polynesians nickname it "vast sky". Dotted with hundreds of islands emerging from the sparkling water, the Rangiroa Atoll is the largest in French Polynesia and is reminiscent of the night sky. Rangiroa farms black pearls: one of many species found on the sea bed. The guided pearl farm tour explains how oysters are carefully selected, grown and grafted and how the pearls are classified according to their quality.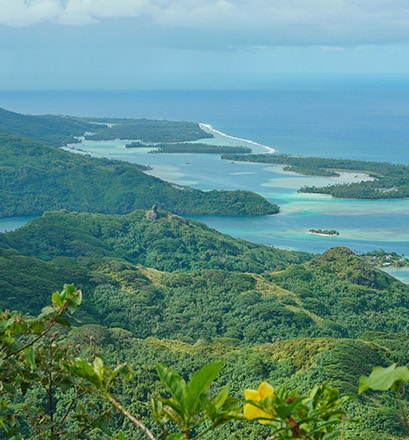 Huahine – Society Islands, French Polynesia
Some call it the "garden of Eden", while others know it as the "secret island". Unspoilt and picturesque Huahine is certainly worthy of these epithets. Surrounded by a lagoon, it offers a special swimming experience in clear waters. Hidden coves, stunning viewpoints at height and the warm welcome from the locals contribute to the idyllic nature of this island 167 kilometres north-west of Tahiti. An archaeological site and stone temples open to the elements, a vanilla plantation, meet lucky eels in the village of Faie... There are lots of activities to do, providing the opportunity to immerse yourself a little more in Polynesian culture.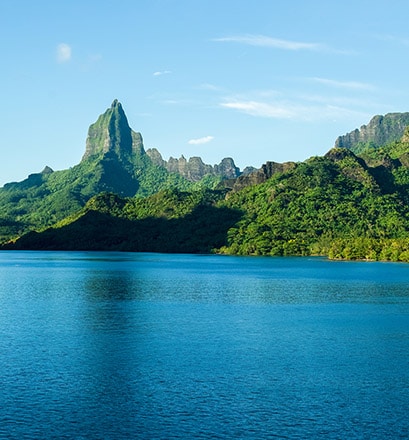 Be surprised by the wild beauty of Hiva Oa - Marquesas Islands, French Polynesia
People often say that the Marquesas Islands are the wildest in French Polynesia. Hiva Oa is a good example. Black-sand beaches, vertigo-inducing coastlines and craggy terrain give it a unique atmosphere. This almost mystical feel is bolstered by the presence of tikis, sacrificial sites and the Puamau archaeological site: the most famous in the Marquesas Islands. This power and wild beauty attracted the painter Paul Gauguin and then the singer Jacques Brel, both of whom are buried in the cemetery in the village of Atuona.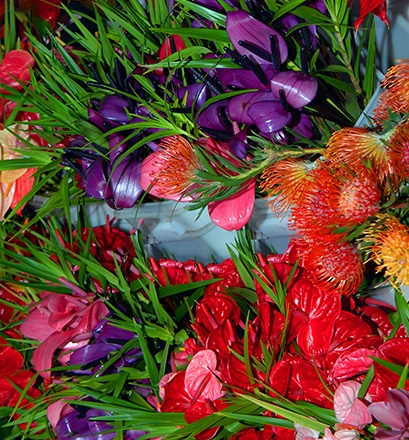 Visit Hilo - Hawaii
Head to Hilo on the east coast of Hawaii. Although this is the biggest town on the island (47,000 inhabitants), it has incredible natural surroundings. One side has the active Mauna Loa volcano. The other is home to the dormant Mauna Kea volcano. The region is also known for its significant seismic activity... And Hilo has a museum that is unusual, to say the least: the Pacific Tsunami Museum. In the town centre, the market gives a good overview of local produce. Fruit, vegetables, exotic flowers and little home-made dishes fill the place with scents. Twenty kilometres away, the Akaka Falls emerge from dense vegetation over 130 metres up, delighting travellers.
Essential - French Polynesia
Although Polynesian landscapes are certainly attractive, the islands' culture is often what incites people to travel. Below is our handy guide to help you become more familiar with French Polynesia.

Top tips
Dos. Some Polynesians are happy to use informal language. There's no point speaking very formally: informality is a token of politeness and proof that relationships are simple and relaxed.
Don'ts. The most commonly used expression is "aita pe'a pe'a": "no problem". Patience, calm and respect for others are all encapsulated by this mantra.

Unique features
The pirogues (dugout canoes) made on Raivavae island are unique. They have five different parts and are assembled individually by hand, glued together, then sewn. The stunning stitching done using woven coconut fibres strengthens the gluing. Every pirogue is then christened.

Essential phrases
Tahitian is one of many Polynesian languages. Here are a few words you can use when travelling in the South Pacific islands.
Hello / Good evening: Ia ora na/ Ia ora na
Goodbye: Nānā
Welcome: Maeva
Excuse me / Please: Ēē
Thank you: Māuruuru
Yes / No: E oia / aita
How are you?: E aha tō outou huru ?
Fine, thank you, and you?: Maita i roa, māuruuru, outou ?
My name is…: O (prénom) tō u i oa

Gastronomy
Fish is everywhere in French Polynesia. It is eaten from breakfast onwards. Skipjack and tuna fillets are marinated in lemon juice, coconut milk, onions, tomatoes, chives and garlic. This recipe is reminiscent of South American ceviche.

Mythes et légendes
Legend has it that Polynesia is so sunny thanks to a young warrior, Maui, who went to fight the Sun. The Sun believed it was working too hard in comparison with the humans on Earth. So, it decided to only get up for a few hours each day. With the nights became longer and humans suffering from the lack of light, Maui weaved a huge net using hair from his fiancée, Hina. He managed to capture the Sun and make it see reason. Since then, the Polynesian islands have enjoyed long sunny days. If you see a kind of green thread surrounding the Sun as it goes down in the evening, this is Hina's hair that has been left there to remind the Sun of its promise.

In the spotlight
Faced with the urgency of the impact of climate change on corals, French scientists working on the "Under the Pole" project have shown that corals migrate to and find refuge in deeper water. This unprecedented discovery could provide remarkable hope in terms of restoring corals to the surface. During their underwater expeditions in French Polynesia onboard the Capsule, a submersible craft that makes it possible to conduct 72-hour long saturation dives, they amassed an extensive collection of mesophotic coral samples, amongst which a Leptoseris hawaiiensis specimen found at a depth of 172 metres, the deepest ever collected.

Culture
Book. Could you leave everything behind to live a simple life in a corruption-free society? In his 1846 autobiographical novel, Typee, Herman Melville recounts the few months he spent living on Nuku Hiva island in the Marquesas Islands. This young seaman travelling on a whaler took advantage of a stopover in these stunning waters to abandon his post with one of his colleagues. Hiding in the jungle, he was welcomed by the Typee people, who were reported to be cannibals. The book describes locations, customs and inhabitants, immersing the reader in a bygone era of colonies and evangelising in a strikingly authentic narrative.
Music. Although every Polynesian archipelago has its own characteristics, Polynesian music is notably represented by himene : ancient airs combining Polynesian song with Protestant influences. They are accompanied by traditional flute-like instruments and ukuleles imported from Hawaii by sailors.
Film. Both in 1935, with Clark Gable and Charles Laughton, and in 1962 with Marlon Brando and Trevor Howard, the two versions of Mutiny on the Bounty tell the story of the mutiny led by Acting Lieutenant Fletcher Christian against Captain Lieutenant William Bligh in 1789. The film showcases the stunning landscapes of Moorea and Bora Bora.
Notre Dame Cathedral in Taiohae is one of the town's most iconic buildings. It is built on Tohua Mauuia: a sacred place for Marquesans. It was constructed using stones from the six inhabited islands in the archipelago: red volcanic tuff from Hiva Oa, stones from Ua Pou, Ua Huka and Fatu Hiva, pumice stone from Tahuata, slabs of phonolite from Ua Pou and white sandstone from Nuku Hiva.